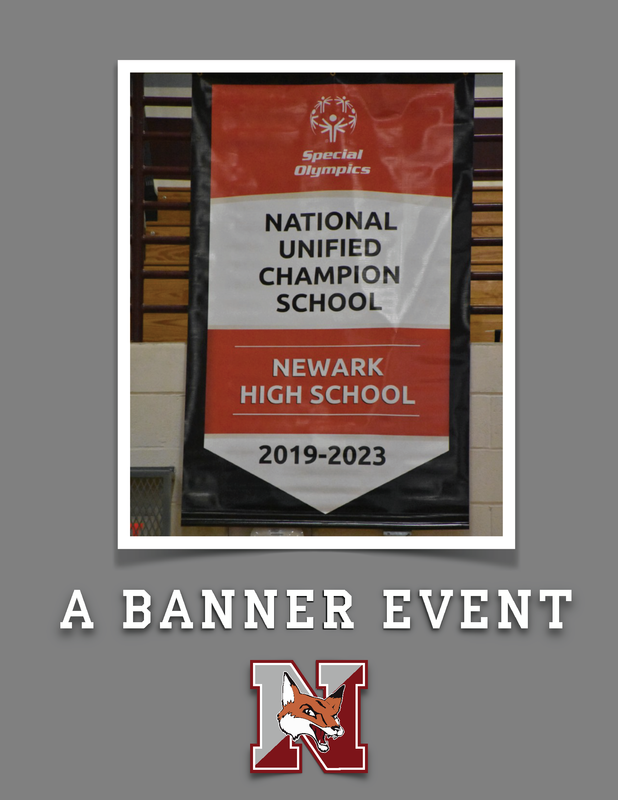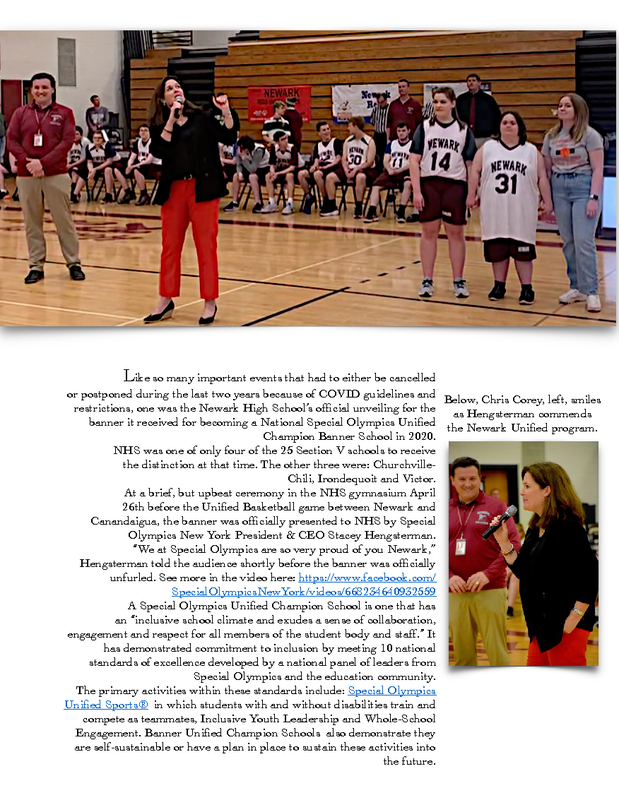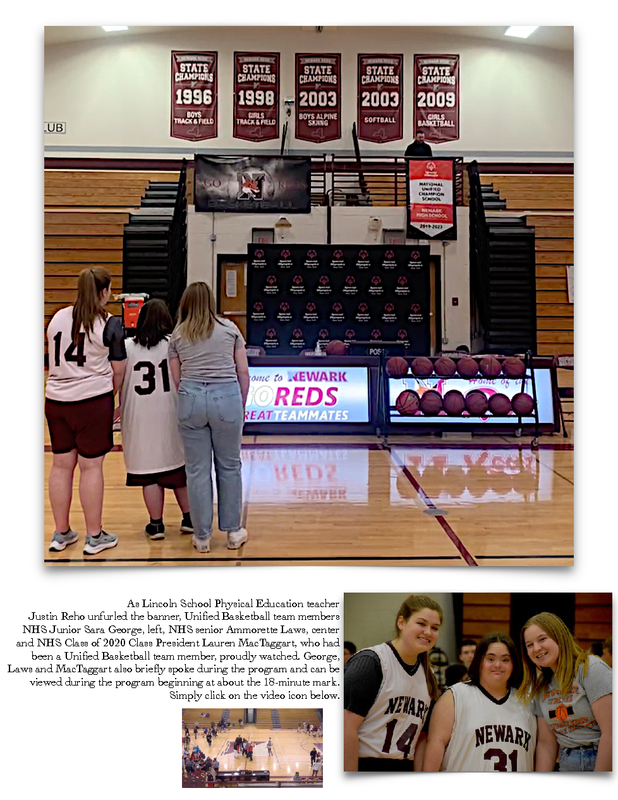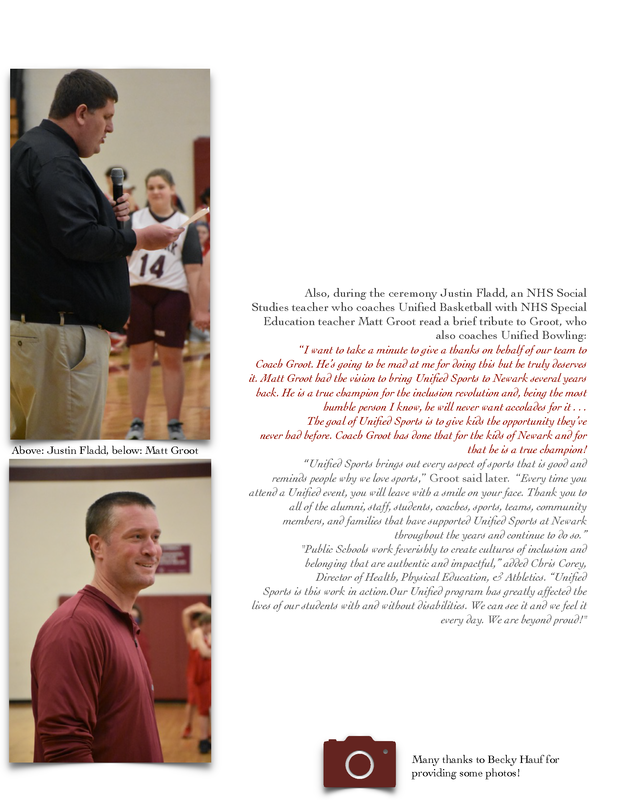 TEXT BELOW:


Like so many important events that had to either be cancelled or postponed during the last two years because of COVID guidelines and restrictions, one was the Newark High School's official unveiling for the banner it received for becoming a National Special Olympics Unified Champion Banner School in 2020. NHS was one of only four of the 25 Section V schools to receive the distinction at that time.
The other three were: Churchville Chili, Irondequoit and Victor. At a brief, but upbeat ceremony in the NHS gymnasium April 26th before the Unified Basketball game between Newark and Canandaigua, the banner was officially presented to NHS by Special Olympics New York President & CEO Stacey Hengsterman. "We at Special Olympics are so very proud of you Newark,'' Hengsterman told the audience shortly before the banner was officially unfurled. See more in the video here: https://www.facebook.com/SpecialOlympicsNewYork/videos/668234640932559
A Special Olympics Unified Champion School is one that has an "inclusive school climate and exudes a sense of collaboration, engagement and respect for all members of the student body and staff." It has demonstrated commitment to inclusion by meeting 10 national standards of excellence developed by a national panel of leaders from Special Olympics and the education community. The primary activities within these standards include: Special Olympics Unified Sports® in which students with and without disabilities train and compete as teammates, Inclusive Youth Leadership and Whole-School Engagement. Banner Unified Champion Schools also demonstrate they are self-sustainable or have a plan in place to sustain these activities into the future.


As Lincoln School Physical Education teacher Justin Reho unfurled the banner, Unified Basketball team members NHS Junior Sara George, left, NHS senior Ammorette Laws, center and NHS Class of 2020 Class President Lauren MacTaggart, who had been a Unified Basketball team member, proudly watched. George, Laws and MacTaggart also briefly spoke during the program and can be viewed during the program beginning at about the 18-minute mark. Simply click on the video icon below.



Also, during the ceremony Justin Fladd, an NHS Social Studies teacher who coaches Unified Basketball with NHS Special Education teacher Matt Groot read a brief tribute to Groot, who also coaches Unified Bowling:
"I want to take a minute to give a thanks on behalf of our team to Coach Groot. He's going to be mad at me for doing this but he truly deserves it. Matt Groot had the vision to bring Unified Sports to Newark several years back. He is a true champion for the inclusion revolution and, being the most humble person I know, he will never want accolades for it . . . The goal of Unified Sports is to give kids the opportunity they've never had before. Coach Groot has done that for the kids of Newark and for that he is a true champion!
"Unified Sports brings out every aspect of sports that is good and reminds people why we love sports," Groot said later. "Every time you attend a Unified event, you will leave with a smile on your face. Thank you to all of the alumni, staff, students, coaches, sports, teams, community members, and families that have supported Unified Sports at Newark throughout the years and continue to do so."
"Public Schools work feverishly to create cultures of inclusion and belonging that are authentic and impactful," added Chris Corey, Director of Health, Physical Education, & Athletics. "Unified Sports is this work in action.Our Unified program has greatly affected the lives of our students with and without disabilities. We can see it and we feel it every day. We are beyond proud!"