Click here to see the full PDF article: https://5il.co/1cox3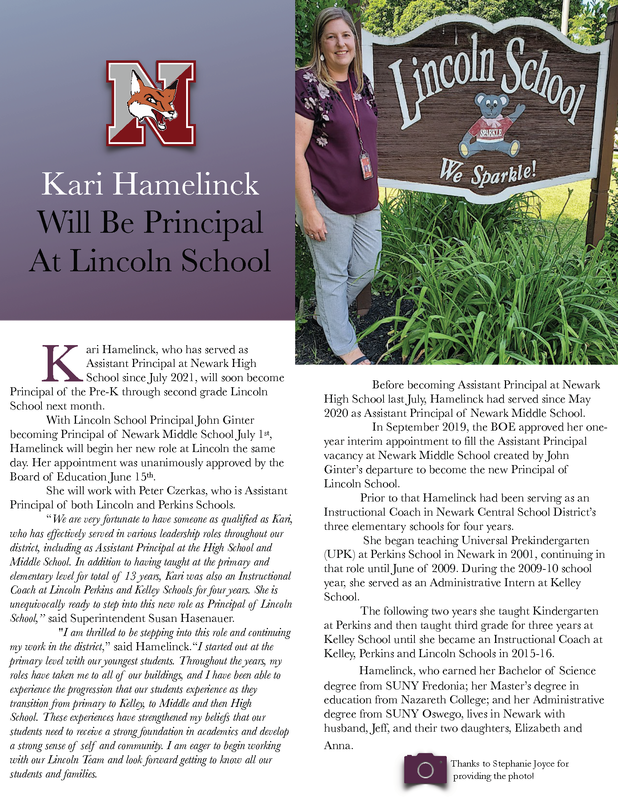 TEXT BELOW:

Kari Hamelinck, who has served as Assistant Principal at Newark High School since July 2021, will soon become Principal of the Pre-K through second grade Lincoln School next month.
With Lincoln School Principal John Ginter becoming Principal of Newark Middle School July 1st, Hamelinck will begin her new role at Lincoln the same day. Her appointment was unanimously approved by the Board of Education June 15.
She will work with Peter Czerkas, who is Assistant Principal of both Lincoln and Perkins Schools.
"We are very fortunate to have someone as qualified as Kari, who has effectively served in various leadership roles throughout our district, including as Assistant Principal at the High School and Middle School. In addition to having taught at the primary and elementary level for total of 13 years, Kari was also an Instructional Coach at Lincoln Perkins and Kelley Schools for four years. She is unequivocally ready to step into this new role as Principal of Lincoln School,'' said Superintendent Susan Hasenauer.
"I am thrilled to be stepping into this role and continuing my work in the district," said Hamelinck."I started out at the primary level with our youngest students. Throughout the years, my roles have taken me to all of our buildings, and I have been able to experience the progression that our students experience as they transition from primary to Kelley, to Middle and then High School. These experiences have strengthened my beliefs that our students need to receive a strong foundation in academics and develop a strong sense of self and community. I am eager to begin working with our Lincoln Team and look forward getting to know all our students and families."
Before becoming Assistant Principal at Newark High School last July, Hamelinck had served since May 2020 as Assistant Principal of Newark Middle School.
In September 2019, the BOE approved her one-year interim appointment to fill the Assistant Principal vacancy at Newark Middle School created by John Ginter's departure to become the new Principal of Lincoln School.
Prior to that Hamelinck had been serving as an Instructional Coach in Newark Central School District's three elementary schools for four years.
She began teaching Universal Prekindergarten (UPK) at Perkins School in Newark in 2001, continuing in that role until June of 2009. During the 2009-10 school year, she served as an Administrative Intern at Kelley School.
The following two years she taught Kindergarten at Perkins and then taught third grade for three years at Kelley School until she became an Instructional Coach at Kelley, Perkins and Lincoln Schools in 2015-16.
Hamelinck, who earned her Bachelor of Science degree from SUNY Fredonia; her Master's degree in education from Nazareth College; and her Administrative degree from SUNY Oswego, lives in Newark with husband, Jeff, and their two daughters, Elizabeth and Anna.