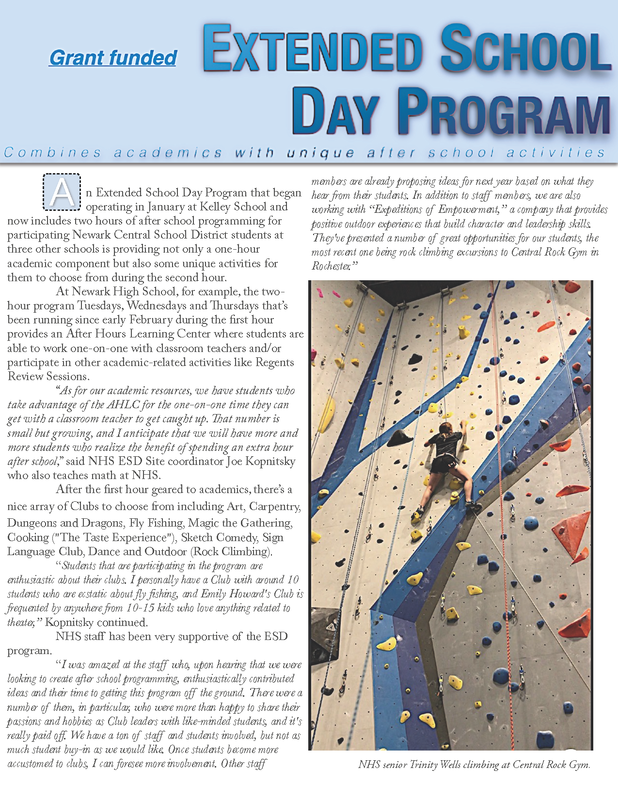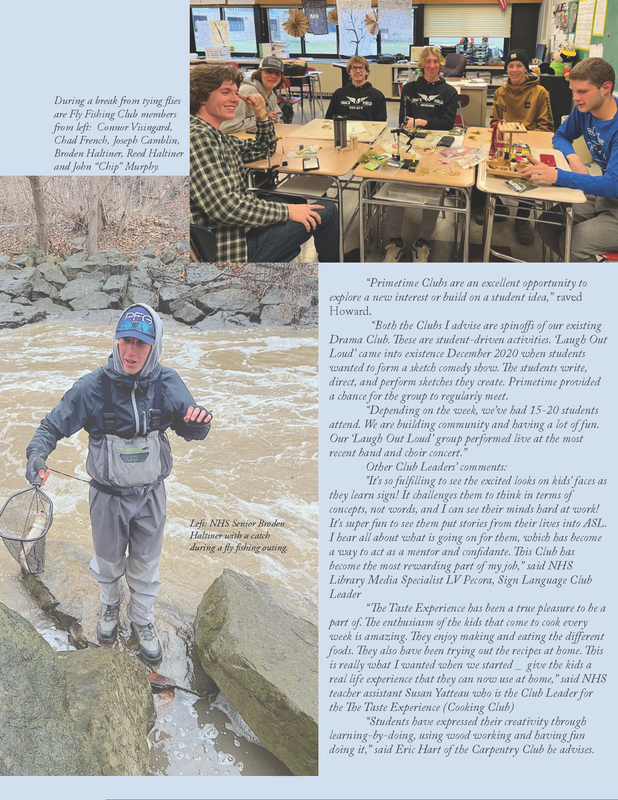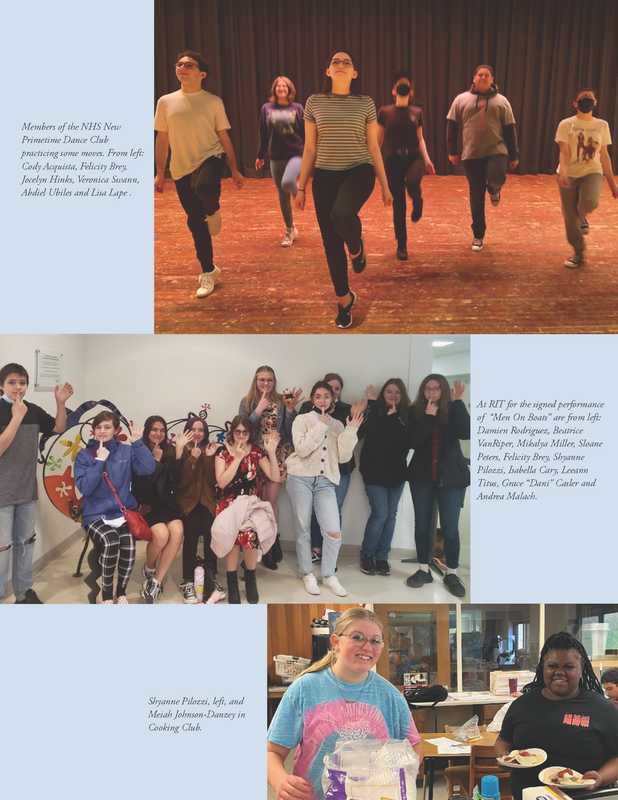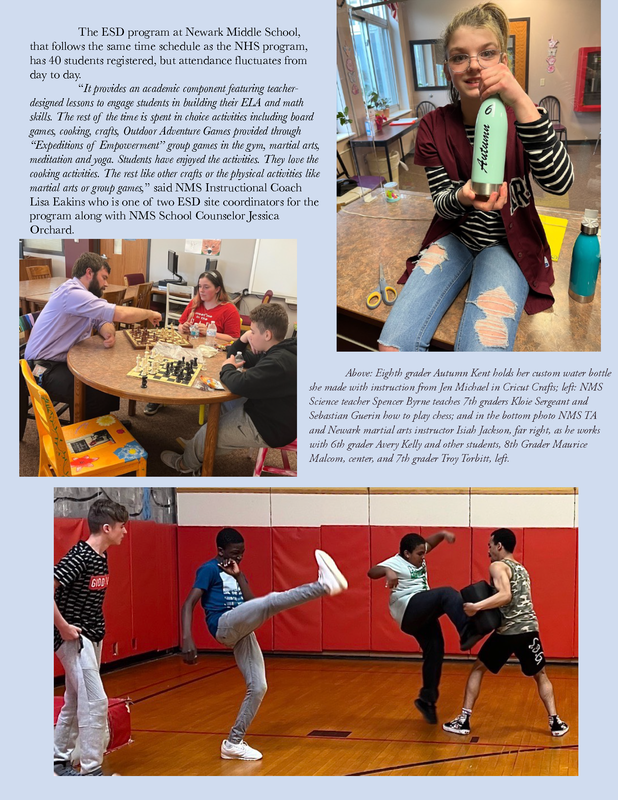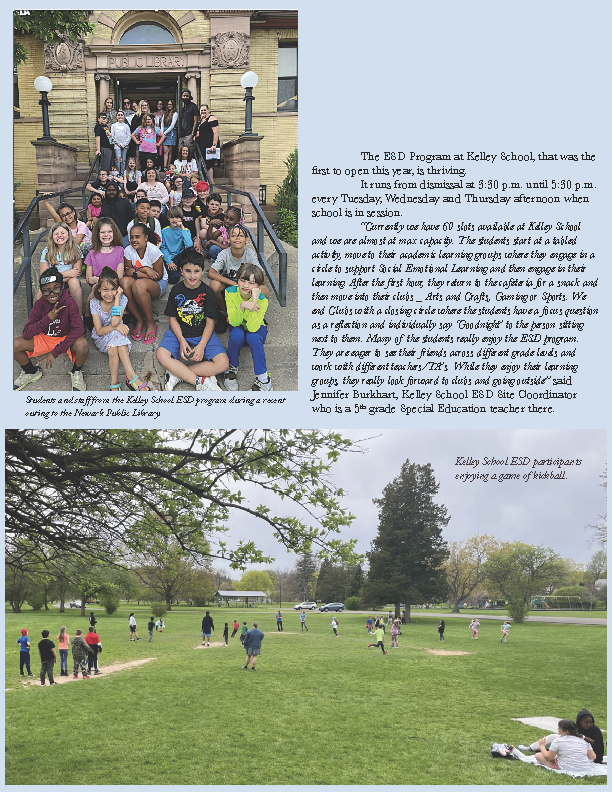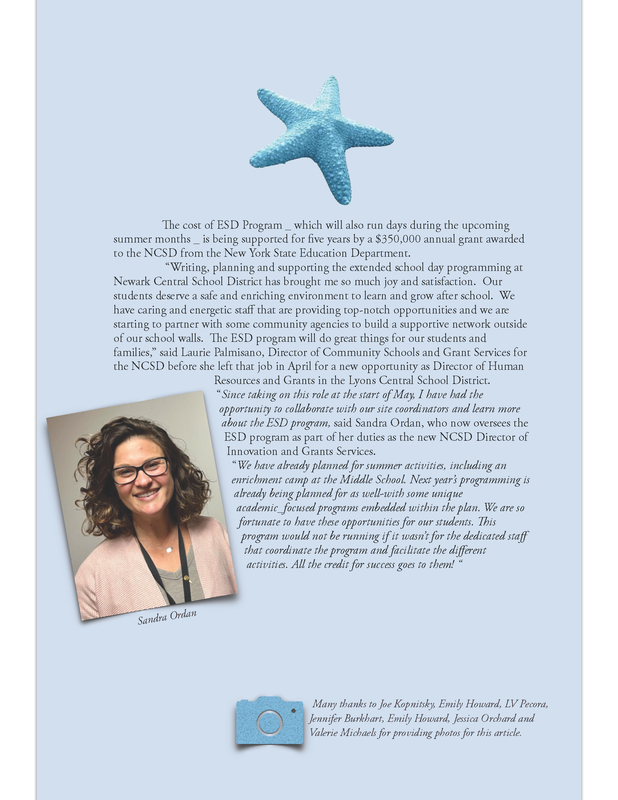 TEXT BELOW:
An Extended School Day Program that began operating in January at Kelley School and now includes two hours of after school programming for participating Newark Central School District students at three other schools is providing not only a one-hour academic component but also some unique activities for them to choose from during the second hour.
At Newark High School, for example, the two-hour program Tuesdays, Wednesdays and Thursdays that's been running since early February during the first hour provides an After Hours Learning Center where students are able to work one-on-one with classroom teachers and/or participate in other academic-related activities like Regents Review Sessions.
"As for our academic resources, we have students who take advantage of the AHLC for the one-on-one time they can get with a classroom teacher to get caught up. That number is small but growing, and I anticipate that we will have more and more students who realize the benefit of spending an extra hour after school," said NHS ESD Site coordinator Joe Kopnitsky who also teaches math at NHS.
After the first hour geared to academics, there's a nice array of Clubs to choose from including Art, Carpentry, Dungeons and Dragons, Fly Fishing, Magic the Gathering, Cooking ("The Taste Experience"), Sketch Comedy, Sign Language Club, Dance and Outdoor (Rock Climbing).
"Students that are participating in the program are enthusiastic about their clubs. I personally have a Club with around 10 students who are ecstatic about fly fishing, and Emily Howard's Club is frequented by anywhere from 10-15 kids who love anything related to theater," Kopnitsky continued. NHS staff has been very supportive of the ESD program.
"I was amazed at the staff who, upon hearing that we were looking to create after school programming, enthusiastically contributed ideas and their time to getting this program off the ground. There were a number of them, in particular, who were more than happy to share their passions and hobbies as Club leaders with like-minded students, and it's really paid off. We have a ton of staff and students involved, but not as much student buy-in as we would like. Once students become more accustomed to clubs, I can foresee more involvement. Other staff members are already proposing ideas for next year based on what they hear from their students. In addition to staff members, we are also working with "Expeditions of Empowerment," a company that provides positive outdoor experiences that build character and leadership skills. They've presented a number of great opportunities for our students, the most recent one being rock climbing excursions to Central Rock Gym in Rochester."
"Primetime Clubs are an excellent opportunity to explore a new interest or build on a student idea," raved Howard.
"Both the Clubs I advise are spin offs of our existing Drama Club. These are student-driven activities. 'Laugh Out Loud' came into existence December 2020 when students wanted to form a sketch comedy show. The students write, direct, and perform sketches they create. Primetime provided a chance for the group to regularly meet.
"Depending on the week, we've had 15-20 students attend. We are building community and having a lot of fun. Our 'Laugh Out Loud' group performed live at the most recent band and choir concert."
Other Club Leaders' comments: "It's so fulfilling to see the excited looks on kids' faces as they learn sign! It challenges them to think in terms of concepts, not words, and I can see their minds hard at work! It's super fun to see them put stories from their lives into ASL. I hear all about what is going on for them, which has become a way to act as a mentor and confidante. This Club has become the most rewarding part of my job," said NHS Library Media Specialist LV Pecora, Sign Language Club Leader
"The Taste Experience has been a true pleasure to be a part of. The enthusiasm of the kids that come to cook every week is amazing. They enjoy making and eating the different foods. They also have been trying out the recipes at home. This is really what I wanted when we started _ give the kids a real life experience that they can now use at home," said NHS teacher assistant Susan Yatteau who is the Club Leader for the The Taste Experience (Cooking Club)
"Students have expressed their creativity through learning-by-doing, using wood working and having fun doing it," said Eric Hart of the Carpentry Club he advises.
The ESD program at Newark Middle School, that follows the same time schedule as the NHS program, has 40 students registered, but attendance fluctuates from day to day.
"It provides an academic component featuring teacher-designed lessons to engage students in building their ELA and math skills. The rest of the time is spent in choice activities including board games, cooking, crafts, Outdoor Adventure Games provided through "Expeditions of Empowerment" group games in the gym, martial arts, meditation and yoga. Students have enjoyed the activities. They love the cooking activities. The rest like other crafts or the physical activities like martial arts or group games," said NMS Instructional Coach Lisa Eakins who is one of two ESD site coordinators for the program along with NMS School Counselor Jessica Orchard.
The ESD Program at Kelley School, that was the first to open this year, is thriving. It runs from dismissal at 3:30 p.m. until 5:30 p.m. every Tuesday, Wednesday and Thursday afternoon when school is in session.
"Currently we have 60 slots available at Kelley School and we are almost at max capacity. The students start at a tabled activity, move to their academic learning groups where they engage in a circle to support Social Emotional Learning and then engage in their learning. After the first hour, they return to the cafeteria for a snack and then move into their clubs _ Arts and Crafts, Gaming or Sports. We end Clubs with a closing circle where the students have a focus question as a reflection and individually say 'Goodnight' to the person sitting next to them. Many of the students really enjoy the ESD program. They are eager to see their friends across different grade levels and work with different teachers/TA's. While they enjoy their learning groups, they really look forward to clubs and going outside" said Jennifer Burkhart, Kelley School ESD Site Coordinator who is a 5th grade Special Education teacher there.>span class="Apple-converted-space">
Nearly 30 Lincoln and Perkins School children participate in the ESD program at Perkins from 3:30 to 5:30 p.m.. Perkins Instructional Coach Valerie Michaels and Lincoln Instructional Coach Tiffany LaPrade are the site coordinators.
"Our schedule incorporates Academics , Mindfulness , Social Emotional Learning and Clubs. The clubs have been created by staff and students who choose which ones they want to participate in each day. A few of the activities we've done have included: sight word scavenger hunts, match games, sequencing activities and Minecraft yoga."
"Clubs include Board games, Typing, Coding, Nature Walks, Plants and Crafts. Students are enjoying the Extended School Day program. They like having choices and making new friends,'' Michaels said.
The cost of ESD Program _ which will also run days during the upcoming summer months _ is being supported for five years by a $350,000 annual grant awarded to the NCSD from the New York State Education Department.
"Writing, planning and supporting the extended school day programming at Newark Central School District has brought me so much joy and satisfaction. Our students deserve a safe and enriching environment to learn and grow after school. We have caring and energetic staff that are providing top-notch opportunities and we are starting to partner with some community agencies to build a supportive network outside of our school walls. The ESD program will do great things for our students and families," said Laurie Palmisano, Director of Community Schools and Grant Services for the NCSD before she left that job in April for a new opportunity as Director of Human Resources and Grants in the Lyons Central School District. "Since taking on this role at the start of May, I have had the opportunity to collaborate with our site coordinators and learn more about the ESD program, said Sandra Ordan, who now oversees the ESD program as part of her duties as the new NCSD Director of Innovation and Grants Services.
"We have already planned for summer activities, including an enrichment camp at the Middle School. Next year's programming is already being planned for as well-with some unique academic_focused programs embedded within the plan. We are so fortunate to have these opportunities for our students. This program would not be running if it wasn't for the dedicated staff that coordinate the program and facilitate the different activities. All the credit for success goes to them! "