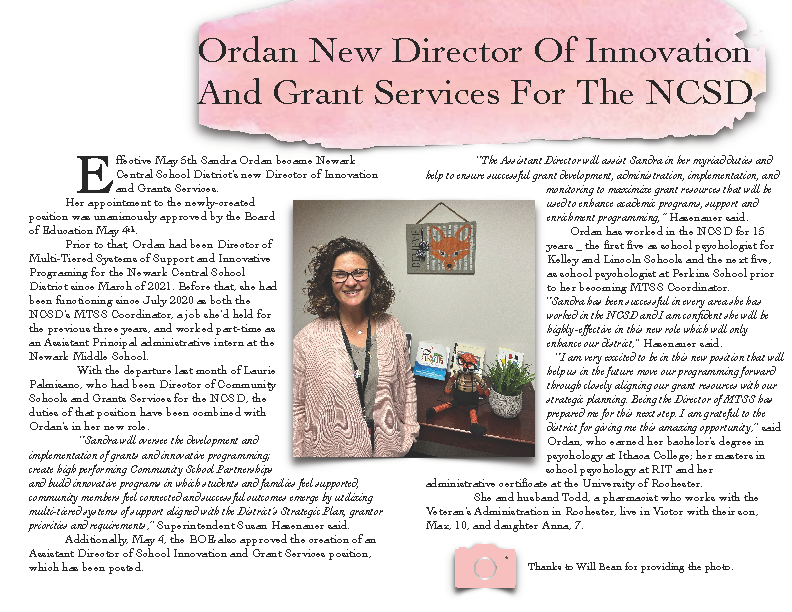 TEXT BELOW:


Effective May 5th Sandra Ordan became Newark Central School District's new Director of Innovation and Grants Services. Her appointment to the newly-created position was unanimously approved by the Board of Education May 4th.
Prior to that, Ordan had been Director of Multi-Tiered Systems of Support and Innovative Programing for the Newark Central School District since March of 2021. Before that, she had been functioning since July 2020 as both the NCSD's MTSS Coordinator, a job she'd held for the previous three years, and worked part-time as an Assistant Principal administrative intern at the Newark Middle School.
With the departure last month of Laurie Palmisano, who had been Director of Community Schools and Grants Services for the NCSD, the duties of that position have been combined with Ordan's in her new role.
"Sandra will oversee the development and implementation of grants and innovative programming; create high performing Community School Partnerships and build innovative programs in which students and families feel supported, community members feel connected and successful outcomes emerge by utilizing multi-tiered systems of support aligned with the District's Strategic Plan, grantor priorities and requirements," Superintendent Susan Hasenauer said.
Additionally, May 4, the BOE also approved the creation of an Assistant Director of School Innovation and Grant Services position, which has been posted.
"The Assistant Director will assist Sandra in her myriad duties and help to ensure successful grant development, administration, implementation, and monitoring to maximize grant resources that will be used to enhance academic programs, support and enrichment programming," Hasenauer said.
Ordan has worked in the NCSD for 15 years _ the first five as school psychologist for Kelley and Lincoln Schools and the next five, as school psychologist at Perkins School prior to her becoming MTSS Coordinator.
"Sandra has been successful in every area she has worked in the NCSD and I am confident she will be highly-effective in this new role which will only enhance our district,'' Hasenauer said.
"I am very excited to be in this new position that will help us in the future move our programming forward through closely aligning our grant resources with our strategic planning. Being the Director of MTSS has prepared me for this next step. I am grateful to the district for giving me this amazing opportunity," said Ordan, who earned her bachelor's degree in psychology at Ithaca College; her masters in school psychology at RIT and her administrative certificate at the University of Rochester.
She and husband Todd, a pharmacist who works with the Veteran's Administration in Rochester, live in Victor with their son, Max, 10, and daughter Anna, 7.