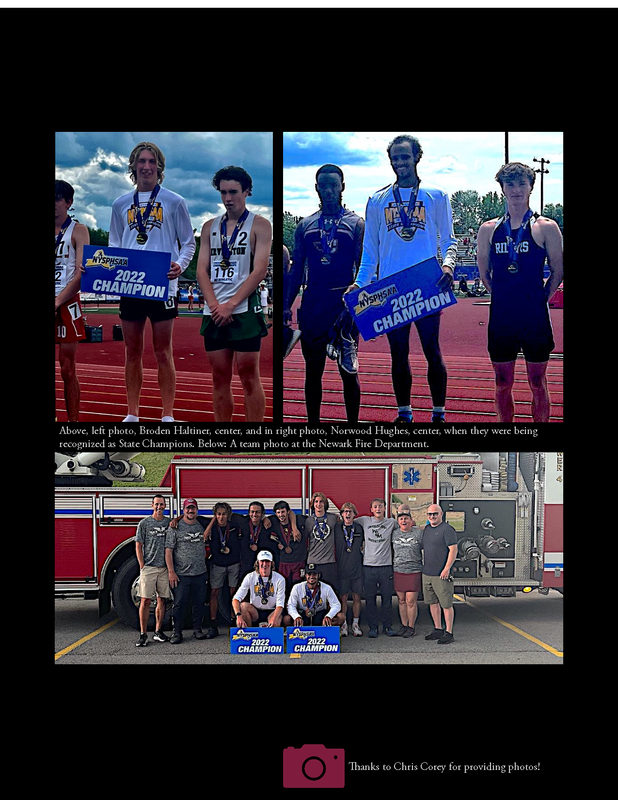 Click here to view full PDF article: https://5il.co/1cowh
TEXT BELOW:

The Newark Reds Boys Outdoor Track & Field team won the New York State Outdoor Track and Field Championship at the Cicero-North Syracuse High School June 11th.
Chris Corey, NCSD Director of Health, Physical Education and Athletics said Newark scored 56 points _ "more points at the state meet than any other Division II team."
Additionally, two team members, NHS seniors Broden Haltiner and Norwood Hughes, each won state championships in their races. Haltiner won the Division II State Championship in the 1600-meter run with a time of 4:14:59 and Hughes won the Division II State Championship in the 200-meter dash with a time of 21:92.
In a statement after the meet, Corey noted the Boys Outdoor Track & Field team won the State Outdoor Track & Field Championship in 1996 and 1998 and this most recent State Championship win was the 7in any sport in Newark High School's history.
"The legacy of track & field in Newark is rich and this team cemented its place in history by beating every other Division II team at the State Championships," Corey said later. "The scoreboard tells the story of their elite times and distances but the real story is the culture of excellence that exists in this program. Led by an exceptional senior class and a group of coaches that are as talented, caring, and committed as any in New York State, it is thrilling to seem them rewarded for their efforts. Watching this team grow, day-to-day, practice-to-practice, meet-to-meet, has been inspiring."
NHS science teacher Aaron Harrington and Mark Pettit are Head Coaches of the team and Jessica Wells and Luke Baum, a NHS special education teacher, are the Assistant Coaches.
Upon returning home from Cicero after their outstanding performance June 11th, a champions parade at 5:15 p.m. made its way through the Village of Newark on Union, Main, and Maple Streets, ending at the High School. Newark Police, along with fire trucks from Marbletown, Newark and Fairville, along with a Newark-Arcadia Volunteer Ambulance (NAVA) led the team and its supporters throughout the village.
"Newark Athletics as a whole has as rich of a history as any program in Section V and New York State, capturing our first sectional title 100 years ago (1922-boys basketball)," Corey continued. "To have this Boys Outdoor Track & Field team join our Girls Bowling Team as State Champions this year is amazing and validates what those in the athletic program have known for 100 years and have been consistently telling those on the outside: this community, this program, these coaches, these athletes, this team is different. It is special. Go Reds!"